Multicarrier Processing within the Cell
Surface Modification
Specific Application of LbL Microcarriers in Drug Delivery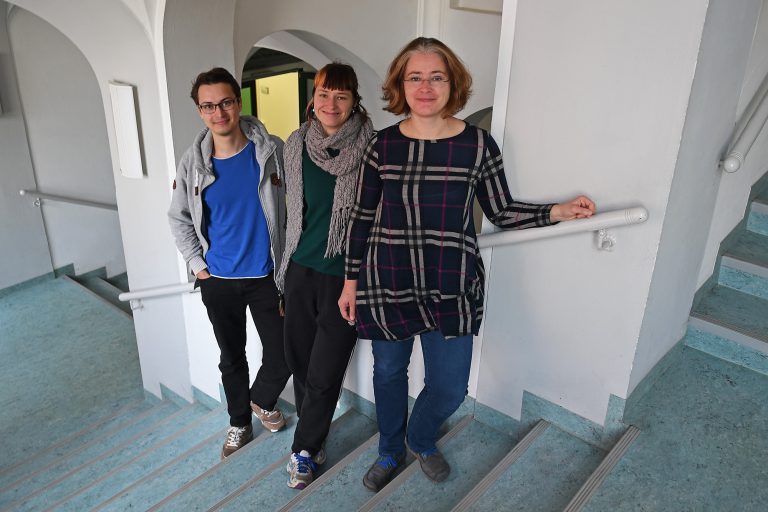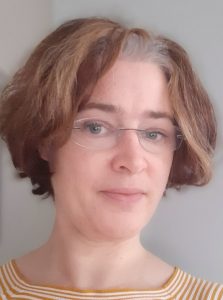 Härtelstr. 16-18, 04107 Leipzig
Room 253
Phone +49(0)341 97-15703
Email
Consultation by email appointment
Scherf, Merle, doctoral student
Fritz, Robert, doctoral student
After the introduction of Layer-by-Layer assembling of oppositely charged polyelectrolytes on flat and colloidal templates in the nineties, this technique became more and more interesting for biomedical applications with the design of multifuctional carrier systems. Colloidal microcarrier systems show a great potential in drug delivery due to their modular construction: several active agents can be embedded into a biocompatible polymer multilayer or core, with the option of additional carrier functionalization such as for cell surface mimicking, or by the integration of sensors. Thus, microcarriers combine several important advantages in transport and delivery of active agents into living cells and tissue compared to current therapy concepts:
biocompatible and biodegradable multilayer material as well as the core dissolution after multilayer assembling provide high biocompatibility reducing off-target effects,
the wide choice of multilayer material, the biopolymer layer number and the layer depth of the assembled active agent(s) provide a time-controlled release of the agents within the cell,
different active agents can be assembled into different layer depths without interference, facilitating a time-delayed application of the agents,
additional surface modifications provide a targeted or enhanced uptake by cells, and
agents can be applied in a defined dosage by varying their amounts within the multilayer or core.
Our group is working on the characterization and improvement of addressing, uptake and intracellular processing of the carriers as well as on the development of microcarrier systems for specific applications.
2014: Habilitation (Medical Physics/Biophysics)
Since 2011: Independent Research Group Leader,  DFG-funded research project: "Funktionalisierung von LbL Mikrocarriern als Drug Delivery System für Elastaseinhibitoren und HOCl Scavenger bei chronischen Entzündungen." (Functionalization of LbL microcarriers as drug delivery system for elastase inhibitors and HOCl scavengers)
2009 – 2011: Independent Research Group Leader (together with Dr. J. Leßig) at the Translational Centre for Regenerative Medicine, Leipzig, BMBF-funded research project: Colloidal Capsules as anti-inflammatory Drug Carrier and Sensor for the Termination of chronically proceeding Inflammations
2008 – 2009: post doctoral fellow, Nanyang Technological University Singapore (with Prof. Dr. B. Neu)
2008: researcher at the National Nanotechnology Laboratory, Lecce, Italy (with Prof. Dr. R. Rinaldi, Dr. St. Leporatti)
2003 – 2005: postgraduate studies of Medical Physics and Techniques at the University of Kaiserslautern, Distance and Independent Studies Center
2003 – 2008: post doctoral fellow, Leipzig University, Medical Faculty, Institute for Medical Physics and Biophysics
2003: PhD in Physics at Leipzig University, Medical Faculty, Institute for Medical Physics and Biophysics
1999 diploma in Physics at Leipzig University, Faculty of Physics and Earth Sciences, Division of Solid State Physics
1995: internship in laser physics, GSI Helmholtzzentrum für Schwerionenforschung, Darmstadt
Scherf,M.,  Scheffler,F.,  Maffeo,C., Kemper,U., Ye, J., Aksimentiev,A. , Seidel,R., Reibetanz,U. Trapping of protein cargo molecules inside DNA origami nanocages ,Nanoscale 48(2022) 18041-18050 [DOI, PubMed]

Boehnke, J., Pinkert, S., Schmidt, M., Binder, H., Bilz, N.C., Jung, M., Reibetanz, U., Beiling, A., Rujescu, D., Claus, C. Coxsackievirus B3 infection of human iPSC lines and derived primary germ-layer cells regarding receptor expression. Int. J. Mol. Sci. 22 (2021) 1220. [DOI]

Reibetanz, U. Guest editorial: Biological nanodielectrics. IET Nanodielectrics 4 (2021) 163-164 [DOI]

Claus, C., Fritz, R., Schilling, E., Reibetanz, U. The metabolic response of various cell lines to microtubule-driven uptake of lipid- and polymer-coated layer-by-layer microcarriers. Pharmaceutics 13 (2021) 1441. [DOI]

Brueckner M, Hollenbach-Latzko S., Reibetanz U. Dual transport of active substances with a layer-by-layer-based drug delivery system to Terminate Inflammatory Processes. Macromol. 20 (2020) e20200097. [DOI]

Scheffler, K., Bilz, N.C., Brueckner, M., Stanifer, M.L., Boulant, S., Claus, C., Reibetanz, U. Enhanced uptake and endosomal release of LbL microcarriers functionalized with reversible fusion proteins. ACS Applied Bio Materials 3 (2020) 1553-1567. [DOI]

Scheffler, F., Brückner, M., Ye, J., Seidel, R., Reibetanz, U. A hybrid carrier system based on origami nanostructures and Layer-by-Layer microparticles. Adv. Funct. Mat. 29 (2019) 1808116. [DOI]

Brueckner, M., Scheffler, K., Reibetanz, U. Enhanced cytoplasmic release of drug delivery sytems: chloroquine as a multilayer and template constituent of layer-by-layer microcarriers. J. Mat. Chem. B 6 (2018) 5153-5163. [DOI]

Scheffler, K., Claus, C., Stanifer, M.L., Boulant, S., Reibetanz, U. Reversible Fusion Proteins as a tool to enhance uptake of virus-functionalized LbL microcarriers. Biomacromolecules 19 (2018) 3212-3223. [DOI]

Brueckner, M., Jankuhn, S., Jülke, E.M., Reibetanz, U. Cellular interaction of a layer-by-layer based drug delivery system depending on material properties and cell types. Int. J. Nanomedicine 13 (2018) 2079-2091. [DOI]

Göse, M., Scheffler, K., Reibetanz, U. Specific uptake of lipid-antibody-functionalized LbL microcarriers by cells. Biomaromolecules 17 (2016) 3672-3682.

Reibetanz, U., Hübner, D., Jung, M., Liebert, U.G., Claus, C. Influence of growth characteristics of induced pluripotent stem cells on their uptake efficiency for layer-by-layer microcarriers. ACS Nano 10 (2016) 6563-6573 [DOI]

Xu, J., Lei, Z., Guo, J., Huang, J., Wang, W., Reibetanz, U., Xu, S. Trapping dand driving individual charged micro-particles in fluid with an electrostatic device. Nano-Micro Lett. (2016), in press. [DOI]

Göse, M., Pescador, P., Reibetanz, U. Design of a homogeneous multifunctional supported lipid membrane on LbL-coated microcarriers. Bioacromolecules 16 (2015) 757-768. [DOI]

Fichtner, M., Claus, C., Leßig-Owlanj, J., Arnhold, J., Reibetanz, U. The application of LbL-microcarriers for the treatment of chronic inflammation: monitoring the impact of LbL-microcarriers on cell viability.Macromol. Biosci. 15 (2015) 546-557. [PubMed]

Strehlow, V., Leßig, J., Göse, M., Reibetanz, U. Development of LbL-biopolymer capsules as delivery system for the multilayer-assembled anti-inflammatory substance a1-Antitrypsin. J. Mater. Chem. B 1 (2013) 3633-3643. [DOI]

Claus, C., Schönefeld, K., Hübner, D., Chey, S., Reibetanz, U., Liebert, U. Activity increase of respiratory chain complexes by rubella virus with marginal induction of oxidative stress. Journal of Virology 87 (2013) 8481-8492. [PubMed]

Leßig, J., Reibetanz, U., Schönberg, M., Neundorf, I. Efficient inhibition of human leukocytic elastase by means of alpha1-antitrypsin/peptide complexes. Cytometry: Part A  83 (2013) 461-471. [DOI]

Reibetanz, U., Schönberg, M., Rathmann, S., Strehlow, V, Göse, M., Leßig, J. Inhibition of human neutrophil elastase by alpha1-antitrypsin functionalized colloidal microcarriers. ACS Nano 6 (2012) 6325-6336. [DOI]

Schönberg, M., Reibetanz, U., Rathmann, S., Leßig, J. Maintenance of a1-antitrypsin activity by means of co-application of hypochlorous acid scavengers in vitro and in the supernatant of polymorphonuclear leukocytes – As a basis for a new drug delivery approach. Biomatter 2 (2012) 1-13.[PubMed]

Gao, J., Reibetanz, U., Venkatraman, S, Neu, B. Bio-Functionalisation of Polyelectrolyte Microcapsules with Biotinylated Polyethylene Glycol-Grafted Liposomes. Macromol. Biosci. 11 (2011) 1079-1087. [PubMed]

Rathmann, S., Schönberg, M., Leßig, J., Reibetanz, U. Interaction, Uptake and Processing of LBL-coated Microcarriers by PMNs. Cytom. Part A 79 (2011) 979-989. [PubMed]

Leßig, J., Neu., B., Reibetanz, U. Influence of layer-by-layer (LbL) assembled CaCO3-carriers on macrophage signaling cascades. Biomacromolecules 12 (2011) 105-115. [PubMed]

Reibetanz U., Jankuhn S. Magnetite Nanoparticles as Reporters for Microcarrier Processing in Cell Cytoplasm. Nucl. Instrum. Meth. Phys. Res. B 269 (2010) 2281-2285. [DOI]

Reibetanz U, Leßig J, Hoyer J, Neundorf I. Surface-functionalized Colloidal Microparticles for fast endocytotic cell uptake. Advanced Biomaterials 12 (2010) B488-B495  [DOI]

Reibetanz U, Chen M H A, Mutukumaraswamy S, Liaw Z Y, Oh B H L, Donath E, Neu B. Functionalization of Calcium Carbonate Microparticles as a Combined Sensor and Transport Sytem for Active Agents in Cells. J. Biomat. Sci.-Polym. El 22 (2010)1845-1859.[DOI]

Halozan D, Reibetanz U, Brumen M, Donath E. Polyelectrolyte microcapsules and coated CaCO3 particles as fluorescence activated sensors in flowmetry. Colloids and Surfaces A: Physicochem. Eng. Aspects 342 (2009) 115–121. [DOI]

Leßig, J., Reibetanz, U., Salavei, P., Glander, H.-J., Arnhold, J. Influence of mediators of inflammation on sperm signalling. In: Glander, H.-J., Grunewald, S., Paasch, U. (Eds.) "Biology of male germ cells". Shaker Publishers, Aachen (2008) pp. 311-338. ISBN 978-3-8322-7682-9.  [Publisher's Page]

Schnäckel, A., Hiller, S., Reibetanz, U., Donath, E. Fluorescent bead arrays by means of layer-by-layer polyelectrolyte adsorption. Soft Matter 3 (2007) 200-206. [DOI]

Reinert, T., Reibetanz, U., Schwertner, M., Vogt, J., Butz, T., Sakellariou, A. The architecture of cartilage: Elemental maps and scanning transmission ion microscopy/tomography. Nucl. Instrum. Meth. Phys. Res. B 188 (2002) 1-8.[DOI]

Reinert, T., Reibetanz, U., Vogt, J., Butz, T., Werner, A., Gründer, W. Spatially resolved elemental distributions in articular cartilage. Nucl. Instrum. Meth. Phys. Res. B 181 (2001) 516-552.[DOI]

Reinert, T., Reibetanz, U., Vogt, J., Butz, T., Werner, A., Gründer, W. Visualisation of collagen fibrils in joint cartilage using STIM. Nucl. Instrum. Meth. Phys. Res. B 181 (2001) 511-515.[DOI]

Butz, T., Flagmeyer, R.-H., Heitmann, J., Jamieson, D.N., Legge, G.J.F., Lehmann, D., Reibetanz, U., Reinert, T., Saint, A., Spemann, D., Szymanski, R., Tröger, W., Vogt, J., Zhu, J. The Leipzig high-energy ion nanoprobe: a report on first results. Nucl., Instrum. Meth. Phys. Res. B 161 (2000) 323-327.[DOI]
Germany         
Prof. Dr. Daniel Huster (Institute for Medical Physics and Biophysics, Leipzig University)
Structure and Diffusion Parameters of Lipid-bilayers on Microcarrier Surface
Prof. Dr. Ines Neundorf (Institute of Biochemistry, University of Cologne)
Surface Functionalization of LbL microcarriers with Cell- Penetrating     Peptides
Irof. Dr. Attila Tárnok (Herzzentrum Leipzig GmbH)
Impedance Flow Cytometry on Microparticles and Capsules
Prof. Dr. Edwin Donath (Institute for Medical Physics and Biophysics, Leipzig University)
Uptake and Processing of LbL Microcarriers in Cells
Prof. Dr. J. Mijer, Steffen Jankuhn (Division of Solid State Physics, Faculty of Physics and Earth Sciences, Leipzig University) 
Investigation of Microcarrier Processing within Cells by Ion Beam Techniques
Prof. Dr. U. G. Liebert, Dr. Claudia Claus (Institute of Virology, Leipzig University)
Specific Transport of Active Agents into Cells
Capsulution Nanoscience AG, Berlin
Cooperation treaty
Prof. Dr. Björn Neu (Biophysics, Rhine-Waal-University of Applied Sciences, Kleve):
Lipid-bilayer Functionalization of LbL Microcarriers
International 
Dr. Jacqueline Leßig, (School of Materials Science and Engineering, Nanyang Technological University, Singapore):
Functionalized LbL microcarriers for treatment of chronic inflammations
Dr. Stefano Leporatti (National Nanotechnology Laboratory Lecce, Italy)
Design and Applications of LbL microcarriers
Dr. Petrik Galvosas (School of Chemical and Physical Science, Victoria University of Wellington, New Zealand)
Structure and Diffusion Parameters of Lipid-bilayers on Microcarrier Surface
Prof. Shengyong Xu, Deparatment of Electronics, Beijing University, China
Dr. M. Fischlechner, University Southampton, UK